Have you ever been to a point where you want to check your bank account balance yet you are away from a machine or maybe you don't have your atm card with you?
I had experienced this type of situation and it's really a nuisance specially if there are important matters that we need to verify with the account and work with.
Well recently, I am just happy that I was able to get my BDO atm card's Internet banking activated. It has been pending since August last year. Since my previous application had expired already, I need to reapply for it. Boy, I'm glad I just reapplied because the new internet banking application is pretty quick and hassle-free!
So what is BDO Internet Banking then?
Citation from BDO website:
BDO Internet Banking is banking through the convenience and privacy of any Internet-enabled device. You can do secure banking transactions anywhere in the world anytime, all the time.

The following are the transactions one can do in BDO Internet Banking:

• Access your accounts 24/7
• Check your account balances and transactions for the past 3 months
• Transfer money (Fund Transfer) to any enrolled BDO account
• Pay your bills
• Buy a load for SMART, Talk 'N Text, Globe, Touch Mobile (TM) and SUN prepaid mobile phones
• Reload BDO Cash Cards
• Order more checkbooks
• Perform Stop Payment on issued checks
• Send money (Wire Transfer) to local or international banks through telegraphic transfer
Following are the easy steps in enrolling for Internet banking:
2. Fill up Online enrollment form.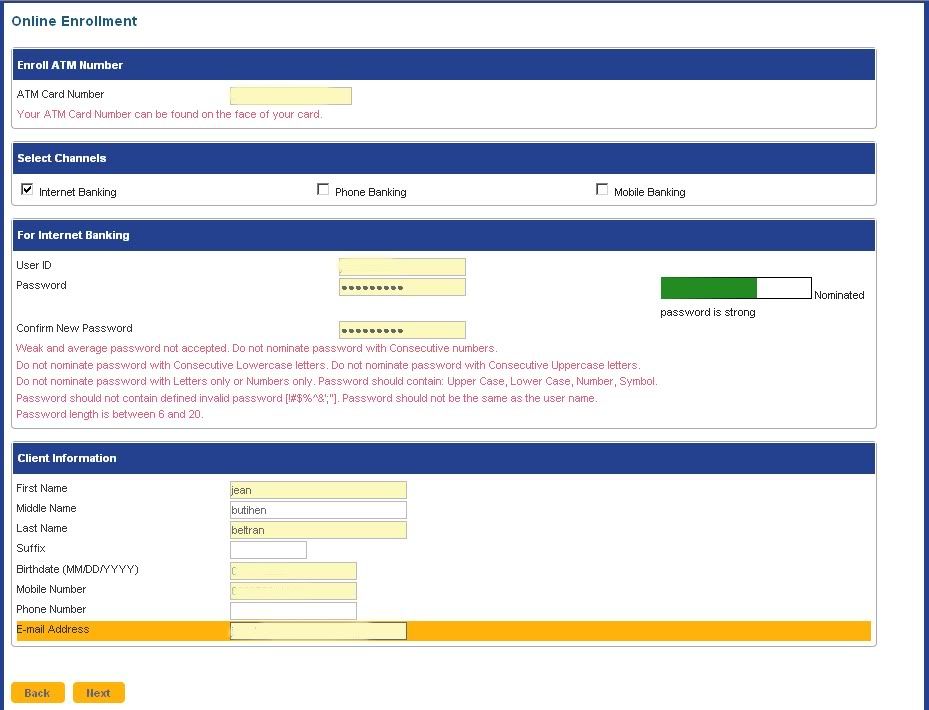 You need to secure your ATM number here. After filling everything, hit next. Then your account details, enter your account number and other things needed. For validation, the site will ask you to enter the captcha characters or enter the marketing referral code which I have no idea what it is.
3. Copy Activation code.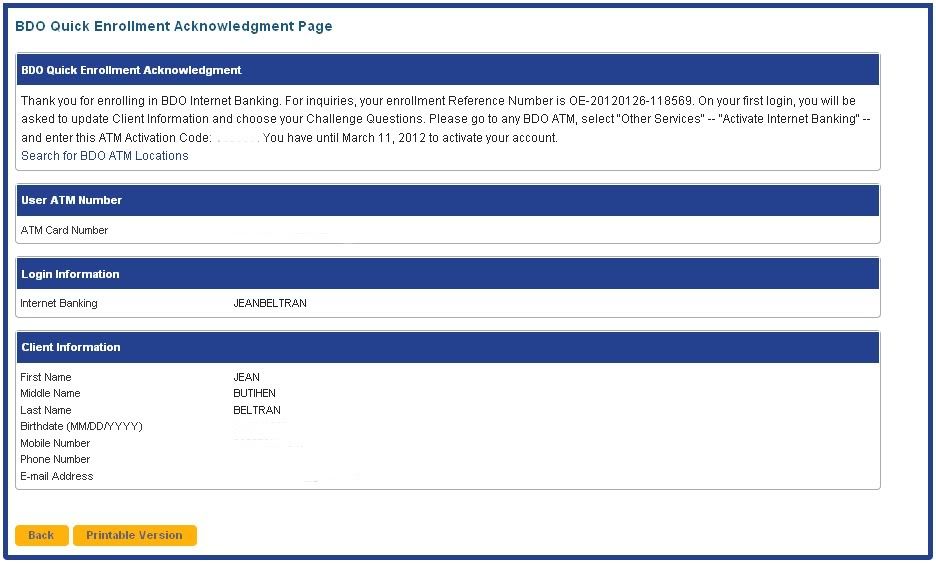 Once done with the form, BDO will send you your activation code or simply copy the code from the acknowledgment page.
4. Activate.
Visit any BDO machine, login and select other services then select activate internet banking. Enter activation code once prompted.
That's it and then you can login on your computer and will be able to capture account information from there.
For me, this is really helpful since I would need to check my account balance everytime payday comes. I can conveniently check it on my pc, free from the long lines and above all, I am secured.
Other banks has this option also, I know UnionBank also has this.