If you are a traveler, you must have followed CebuPacificAir on their respective social media sites like Facebook or Twitter for new updates like seat sales. I am just like the all other netizens out there waiting for them to announce new sales and today, at exactly 12:00 midnight of 11-11-11, their twitter account had just publicly announce their Php11 Christmas Sale to all destinations. Perfect match for the special date. The post seem to had hyped those awaiting netizens out there.

However, the news looked like it's not true after all. I opened their site right away yet the sale was still at Php888. Few minutes after, there were a lot of negative responses from the followers.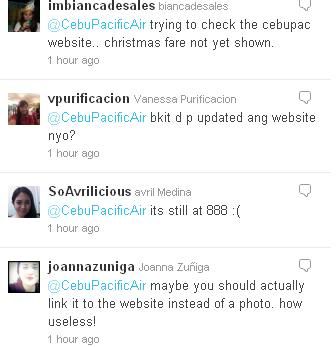 Then came the next update:

I am not that affected anyway since I would only like to book for our next year's barkada get away either in Baguio or Boracay but I was a bit disappointed because after an hour, the website is still not reflecting the seat sale.
Well, they say Patience is a Virtue! I just wish I could avail of the promo before the site says sold out.